Marvel Comics
Runaways (This page, doofus)
Captain America, Spider-Girl
The Young Avengers
MI-13/Excalibur
The Hulk
Namor, The Submariner (King of the Deep Ones)
SHIELD
The Lizard
The Fantastic Four
The Black Panther, and Doctor Doom
She-Hulk, Doc Samson
Blade, Baroness Blood
Scorpion and Vulture Gangs, Raptor
Sentinel Robots
Octopus Cultist of Cthulhu (Doctor Octopus follower)
Agatha Harkness and Goblin Gangmembers
Symbiote Quality
American Dream
Annihilus
Elsa Bloodstone and Zuzha Yu (Puck)
The Red Skull
Beta Ray Bill, Thor Girl, War Machine and Aaron Stack
Agents of Atlas
The Abomination
The Immortal Weapons
Avengers Initiative, Avengers Academy, Squirrel Girl and other Teen Heroes
Helicarrier
Tigra
X-Men Part 1
(NEW)
X-Men Part 2
(NEW)
X-Men Part 3
(NEW)
X-Men Part 4
(NEW)
X-Men Part 5
(NEW)
X-Men Part 6
(Updating)
X-Men Part 7
(Gen 13) (Updating)
X-Men Part 8
(Updating)
X-Men Part 9
(Updating)
X-Men Part 10
(Updating)
Various Marvel Hero and Tech Qualities
(NEW)
Power Pack
(NEW)
Luke Cage, Spider-Woman, Jessica Jones and other Spider-People
(NEW)
Super Soldier Serum
(NEW)
DC Comics
The Bat Family (Batman, Batgirl, Robin)
Huntress (Helena Wayne), Star Spangled Kid/Stargirl/Starwoman, Speedy
Superman, Wonder Woman
Zachary Zatara
The Deadman and Oracle
Black Canary and Green Arrow
Hyppolyta Trevor, Wonder Woman from the 70s and 80s
Starman
The Joker, Harley Quinn, Joker Gang-members, Poison Ivy, Catwomen
The Penguin, Mr. Freeze, Roulette II and Roxy Rocket
Lady Shiva, Sandra Wu-San
John Constantine
Raven and Miss Martian
Mechanical Monsters
Deathrstoke and Ravager
The Parasite, Brainiac, Clayface, Inque and Two-Face
Renee Montoya and Maggie Sawyer
Blue Beetle and Traci Thirteen as well as their supporting cast
The Shade
League of Assassins Goon
The Phantom Stranger
Hawkgirl/Swift
Suicide/Redemption Squad
Supergirl (Linda Danvers), Prometheus
Onomatopia, Manhunter
Darkseid, Avatar of Nyarlethotep
Lobo
Monsier Mallah and the Brain
The Anti-Monitor
Power Girl II/Supergirl III
Misfit, Jessie Quick/Liberty Bell II and Empress
Steel
Bizarro, Black Alice and "Super Woman"
Mogo
No Man's Land
Superboy Prime
Batman "Dark Knight" and "Beyond" Powered Armors
The Music Meister!
Green (and other colored) Lanterns and Manhunter Robots
The Bat-Labor
Doctor Psycho and Genocide
Batman Beyond Villains: Blight, Stalker, Shriek, Mad Stan
Amanda Waller
The Secret Six
Amazons
Titans Tower (Teen Titans)
Starro the Conquerer
(NEW!)
"Independent" Comics
The Heap, Witchblade, The Ghost, The Darkness, Painkiller Jayne, Lara Croft
The BPRD (Hellboy, Liz Sherman, Abe Sapien, Johan Craus)
The Magdalena
Cassandra Hack and Vlad of Hack/Slash
Ghost Goth Girl and Johnny the Homicidal Maniac
"Squee"
Savage Dragon
Wolf and Byrd: Supernatural Law
(No Longer Teenaged) Mutant Ninja Turtles (and friends)
Cyber6 and "The Golem"
Aya--Princess of Darkness, Jalila (Captain Atom II; Dr. Manhatten II), Captain Canuck
Diabolik and Eva Kant
Emma Sonnet, the 10th Muse
Danger Girl
Avrian and Dylan Dog
Static
Spawn, Shi, Violator, Lady Death, Evil Ernie, Purgatory
Fallen Angel--"Lee"
Courtney Crumrin
Project Ragna-Rok
Atomic Robo
Planetary
Mercy Sparx
Sin City
Invincible and Atom Eve
Science Team Super Five
Dynamo 5
Anime and Manga
Read or Die OVA
Lupin III's Gang
Inspector Zennigata
Hellsing
FLCL
Gunsmith Cats
The Melancholy of Haruhi Suzumiya
Paranoia Agent
Detective Conan
Anti-Kaiju Mazer Tank
Black Lagoon
Millenium (Hellsing)
Death Note (the item)
Love Hina and Mahou Sensei Negima
Iscariot Part 1
Project A-Ko
Devilman and Devil May Cry
Cutie Honey
RahXephon Dotems
Hell Girl
Astro Boy
Vajra (Macross Frontier)
Galaxy Singer
Great Teacher Onizuka (GTO)
Baccano!
APRIL FOOLS!
Gunbuster/Diebuster's Uchuu Kaiju
Just for Fun: The Angels
Dimensional Administration Bureau
Magical Girl Lyrical Nanoha Characters
Magical Girl Lyrical Nanoha A's Characters
The Demon Jinmen
Saitama Texas Chainsaw Shojo
The Mycenian/Mykene Empire
Super Dimensional Fortress Macross
Dangaioh
Turn A Gundam and Newtype Philosophy
Tekkamen and Eviluders
Bonta-Kun
Zentradi
Puella Magi Madoka Magica
(non-Canon)
Shadow Mirror Invasion part I
(NEW!)
Kaiju
Ogra, Gamera, Fire Rodan, Anguirus and Godzilla
Loch Ness Cyborg/Scarasan, Baragon, Gyaos
Shokilas--Kaiju Parasites
Gorgo, Manda, Rodan, Varan and Id Monster
Kameobas, Ganimes, Ookondoru, Gorosaurus, Titanosaurus, King Ceasar/Shisa, Destroyah (and Servitors)
King Ghidorah (and Green Slime Survitors)
Baltan-Seijin
Kamakuras, Hedorah, Megalon and Gigan
Mothra and Ultraman
Biollante and various Ultraman Monsters
Dinozaur and Dinozaur Reverse
Imperizer, Emperor-Seijin
Daimajin
Cloverfield
Barugon
Sabotendar, Rhedosaurus, The Centre/Dragonsaurus, Zzazhan, Litra, Juran/Legion Flower, Peguila, Mongourah and Bemular
Prehistoric Monster Cyborg Beasts
King Joe/King Joe Black, Zigra (Avatar of Cthulhu) and Sadora
Bagan
Goudon, Twin Tail, Murochi, Daoloth, Leviathan (Dolem), Bemstar, Black King, Zetton
Mikuras, Windam, Eleking, Yapool and his minions
Gotengo (Atrogon)
Guts, Giant Jellyfish, Groth-Golka/Birdon, Tempera and Earthtron
Legion (Queen and Soldiers)
The Heterodyne (Dai-Guard)
Monsters
Mr. Hyde, Freddy Krueger, Jason Voorhees
Gremlins, Headless Rider
Ghost of King Kong, Golem (Average), Xenomorphs
Kraken, Giant Ants (Them!)
Ghouls--The Flesh Eating Zombies of Film
CHUD
Giant Rats, Giant Crocodilians, Giant Black Scorpions, Giant Gila Monster
Giant Slugs, Leeches, Bats, Rabbits, Boars, Spiders, Serpents and Komodo Dragons ; Killer shrews, Matango, Triffids, and Meganuron.
Mad Gasser, Reaper, Slasher/Onryu
N.O. Faeries (FLCL, Baron Munchausen, Dr. Lao and his Circus)
Vampire Varieties (Red Court, Saw Toothed, White Court, Turok-Han, Reaper-strain, Gyonshi and Pennengalan)
Mangani
Mecha-Slayer and Doomsday Zombie--Kryptonite Rules
Crow Vengance Spirits
John Henry
Anansi
Balrog/Curse of the Fire Demon
Silicates and Crab Monsters
Bigfoot (Invisible and Bionic) and Tommy Rawhead and Bloodybones
The Thing and The Blob
Lesser Dragon Types, Lesser Kumo, Colussus of Ylourgne, Mephistopheles, Slasher Shark, Enlarged Insects (over a meter or so), Human Giants, Rhedosaurus, Creature of the Black Lagoon, Minor ID Monster and Green Hell Wasp
Ancient Dragons
Cenobites
Bat Monster and Slasher Whales
The Einsts
  (Updated)
Strange Places
The Digital World/Wired/Internet
Gulliver's Travels
Lands of Dinosaurs: Skull Island, Pelucidar, etc
Negative Zone/Phantom Zone/N-Zone/Void Prison
Life in the Underground Caverns
(
Pic of the Faries
)
Sol System Extra-Terrestrials (Moon and Outer Planets)
Barsoom
Aerofauna
The Multiverse and the Dimensions of This Universe
.
No Man's Land
Sin City
Pandora
Movies
James Bond
Darkman
Predator/Yaut'ja
The 6th Sense and Unbreakable
The Frighteners
The Circus of Dr. Lao and The Adventures of Baron Munchausen
Pai Mei
Ginger Snaps
Robby the Robot (Forbidden Planet)
Beetlejuice
Beatrix Kiddo (Kill Bill)
From Dusk Till Dawn, El Mariach/Desperado/Once Upon a Time in Mexico, Kill Bill (complete cast)
Jay and Silent Bob
Forrest Gump
Halloween
Star Wars and E.T.
The Golden Army
Rat of NIHM
Avatar and District 9
The Force
Pandoran Wildlife
Robocop
(New!)
TV
The Doctor
Manhattan Gargoyles, David Xanatos, Elisa Maza. Gargoyle Base Quality
Extreme Ghostbusters
The Quarrymen
The Pack
El Diablo Robotico a.k.a. The Robot Devil, Ultron, Amazo
El Hijo Del Santo
Major Aliens (Doctor Who)
Major Aliens (Star Trek, Stargate, X-Files and Sontarans)
Starships (Stargate SG-1)
The Labyrinth Clan
Danny Phantom
Demon Research Initiative (Godzilla the Series, Special Unit II)
Jackie Chan Adventures and Supernatural
The Grim Adventures of Billy and Mandy
Tremors: The Series
The Chronicle
Ben 10
Daniel "Oz" Osbourne
Big Wolf on Campus
Kamen Rider
Beauty and the Beast (TV Series)
Gargoyles TV Series Villains (Demona, Macbeth and Dr. Anton Sevarius (Moreau)
The Beast
Matt Bluestone, The "Coldstone" Family, Archfae (Oberon, Titania, Puck, Weird Sisters)
Redemption/Suicide Squad
Fox Xanatos, Cu Chullian, The Banshee, King Arthur (and Sir Griff)
Freakazoid, Animaniacs, Pinkey and the Brain
Vampire Slayers
Vampire Slayer Organization and Buffy Core Cast
Faith Lehane
Voyage to the Bottom of the Sea
Kamen Rider Kaijin
Veronica Mars
Daria
Shendu
My Life as a Teenaged Robot
The Powerpuff Girls
Dial M for Monkey!
Transformers
Illyria (Original, Initial Shell and Depowered Shell)
Atlantean/Muan/Mulian People Quality
Captain Planet and the Planeteers
The Doomsday Machine a.k.a. Galactus, Unicron
Giant Transformers
Atlantis/Mu
MEGAS XLR
Sari Sumdac and Pretender Trasformers
Power Rangers
Vulcans, Romulans and KHAAAAAN!
New/Optional Rule
Kryptonite Poisoning
Negima magic: Basic Ki Rules, Ninpo,Shinmeryu and Onmyodo
Ki Abilities and Gun-Kata/Pistolero abilities
  (More abilities added)
The Quick and Dirty Guide to Learning Advanced Combat Skills/Spellcasting
Kankahou Specific Spells
Magia Erebia
Magic Specialization and Magic Key
Pro Wrestling Powers
New Drama Point Usage and the Heroic Tackle
Spell Conduits
Dimensional Weaponry
Optional Rules: Limitations and Damages of Magical Shape Shifting
An Explanation of Damage Type: Beam, Electrical and Plasma
Optional Rules: Energy Weapon and Magic Dissipation over Range/Increased Spell Range
Optional Rules: Limited Regeneration, Defensive Reversion, Tapped Inner Demon
Optional Rules: Full Contact Magic
Dimensional Administration Bureau Magic System
Healing Complications
Expanded Character Types
Aura Sensing Rules
Expanded Melee Weapons Strikes and Ritual Cannibalism
Population Dynamics
The Dirty Truth about Super Heroics
New Qualities for PC Use
Draconian/Klingon
Symbiot Quality
Death Note Item
Galaxy Singer
Elixir Immortal
New Species of Vampire
Capellean and Eridanean
Child of Ithaqua, Variable Yield, Electrical Mutant, Atomic Human, Amazon/Enhanced Amazon
Red Martian
Predator, Terminator, Skrull/Changeling, Skrull/Changeling Hybrid/Infectee
NIHM Rat
Na'Vi and Prawn (District 9)
Gargoyle Base Quality
Transformer Quality
Atlantean/Muan/Mulian People Quality
Planeteer Rings
Light Elf, Dark Elf and Dwarf Qualities
Nazi Super Soldiers and the Gladiator Formula
Dresden Files (Qualities)
Conan's Sword, Jack Sparrows Compass
Soul Edge/Soul Calibur
Velocity Baby
Generic Anime Cliche Qualities
Magical Girl Lyrical Nanoha Qualities and Spell Casting
New Qualities: Moe-Moe and Combat Twitch
Mix of Supernatural Qualities
Skill Swap & Chainsaw Martial Art
Digimon Qualities
Toon Rules and Qualities
Military and Occupational Qualities
Fighter
Psychic Powers
Martial Philosophies, Ancestral Weapon, Berserker
Modern Mart
ial Philosophies
Harry Potter Qualities
Star Trek and Macross Alien Qualities
Ghost Rider
Elemental Shaping, Elemental Absorption, Ability Absorption, Life Absorption and Electrical Being
Gulothrope, Space Knight, Heir of the Spider (Spider-Person), Blind Seer
(NEW)
Super Soldier Serum
(NEW)
New Spells

Curse of the Fire Demon
12 Talismen of Shendu
Eternal Darkness: Sanity's Requiem
Harry Potter Spells and Potions
New Technology for PC Use
An Alternative for Super Science
Star Ships 1 (Doctor Who)
Star Ships 2 (Star Trek, Stargate, X-Files and Sontarans)
Star Trek Ships Proper
Star Ships 3 (Stargate SG-1)
Mecha Rules and Tanks
Power Armor Rules, Example Armors: Iron Man/War Machine, Thor, Akagiyama
(Updated!)
Hammer of Thor, Sword of the Valkyrie, Grapple/Wall Crawling Gloves/Boots, Rocket Pack
Vulture Flight Harness and Scorpion Acid Spray Gun
Hyde 25, Velocity, HST Rifle, Anti-Kaiju Rifle
Anti-Kaiju Airship Raptor 1 and Raptor 2
Jet Set Radio/Jet Grind Radio
Mulian Lantern Rings
Technology "Levels"
A History of Giant Robots and Mecha Part 1
(Space Runaway Ideon, RahXephon, War of the Worlds, Sakura Wars, Satan's Death Machines and Gigantor/Tetsujin-28-Go)
A History of Giant Robots and Mecha Part 2
(Robot Spy, Mazinger Series, Getter Robo G, Steel Jeeg, Shin Tetsujin 28 go, Mechani-Kong/Robo Yeti)
A History of Giant Robots and Mecha Part 3
(Arm Slaves (Full Metal Panic!) and Labors (Patlabor))
A History of Giant Robots and Mecha Part 4
(Dai-Guard, Lizard Slayers, MOGUERA and Mecha-Godzilla)
The Bat-Labor
The Asura ship
SDF-1 Macross, Valkyrie Fighters and Destroids
Dangaioh, Turn A Gundam, MEGAS XLR
Expanded Armor, Bizarre Weapons, Expanded Bows and Medieval Shields
Bonta-Kun
Helmet of Fate, Eye of Agamoto, Cloak of Levetation, Ant Man Helment, Guardsman Armor and Mandroid Armor
Helicarrier
Gimmick and Trick Weapons, Adamantium and Vibranium metals
Nazi Mecha
Super Hero Suit
(NEW)
Venom Blaster, Web Shooter, Octopus Harness, UNIT Flying Car
(Don't touch Lola) (NEW!)
Novels and Literature
Trudi Daleski the Prophetess of Doom
Various Pantheons (Basic)
Daughter of Fu-Manch/Ras Al Ghul
Dracula Prime
Pulp Heroes (Shadow, Phantom, Doc Savage)
Conan's Sword, Jack Sparrows Compass
Angels
The Abrahamic God
The Lord of the Rings: Fifteen Thousand Years Later
Lovecraftian Horrors Part 1
Lovecraftian Horrors Part 2
Lovecraftian Horrors Part 3
Nazi Super Soldiers and the Gladiator Formula
Dresden Files (Qualities)
-
Characters (Early Key Heroes)
- Characters (White Council Members)
Lovecraft's Dholes
Tarzan of the Apes
Harry Potter Qualities
Harry Potter Spells
Video Games
Soul Edge/Soul Calibur
Eternal Darkness: Sanity's Requiem
Resident Evil
Heartless
Street Fighter (Main Post)
(NEW LIKE CRAZY!)
More Soul Calibur Characters and Ogre from Tekken
God of War
The Edel Bernal and The Dark Brain
Rules for Fighting Tournaments
Dimensional Beasts/Jigenju
Rival Schools
Chronologies and Timelines

Runaways (See Below)
Kaiju Timeline
(Needs Updating)
Resident Evil
Mahou Sensei Negima
Brief Dresden Files Timeline
Alternate Buffy Season 8 Proposal Timeline
(Undated)
Fighting Game rough order
(Undated)
In honor of Joss Whedon's
Recent Announcement
concerning the Runaways, here's the stuff on them for their "Buffyverse" appearance. (Stats later).
Full Spoilers for the entire Runaways Series (somewhat).
*
*
*
*
*
*
*
*
*
*
The Circle of the Black Thorn was the instrument of a group of former servitors of the Old Ones known as the Wolf, the Ram and the Hart. Their exact nature has not yet been revealed, but it is known that they left this dimension in order to avoid combating their enemies directly as well as avoid their detection. As such, the Circle of the Black Thorn acted in their stead and their front (in this dimension at least) was the law firm of Wolfram and Hart (itself connected to the Red Lectroids front business of Yoyodyne, Weiland-Yutani and Fox Newscorp). Through this organization, they kept the most of the world, underworld and under-underworld in check, especially on the west cost, limiting the number of vigilantes that would operate, and keeping tabs of all the other cabals, societies and criminal organizations that might be a threat to their goals.
The goals of the Circle of Black Thorn are hard to distinguish, as their power and influence are hard to pinpoint. Of all the secret cabals and organizations present in the Wold Newton Universe, this group has the unfortunate distinction of being completely unrecorded until after their destruction; their ability to cover their tracks was so well developed. The records database of Wolfram and Hart is claimed to have almost every bit of information on record, and their influence is claimed to reach even the President of the United States--claiming the various misfortunes the Kennedy family underwent were retribution for unpaid dues. However, such claims can rarely be taken seriously, for they may be simple boasting or over-exaggeration, failing to take into account the sheer incompetence of the average individual, or bureaucracy in general. But the point of these boasts remain the same: they have their appendages in every aspect of life they can get into. Wherever there is power to be had, they tried to reach for it.
Their exact goal, as far as it can be deciphered, was to lull humanity into complacency. To keep everyone going through their lives and largely preventing them from making great accomplishments. With the Wold Newton event and similar happenings, they certainly had their work cut out for them. Why is uncertain as no records remain to detail their plans.
Though their front suffered a heavy blow towards the end of 2002 and at the start of 2003 from the entity known as Jasmine, the Circle endured the attack that decimated their front organization and rebuilt it stronger than ever. The Circle itself consisted of the following members:
Archduke Sebassis :
An ancient purebred demon who commanded a powerful army of demonic creatures that the circle could use as minions for various tasks. Like many demon species, his kind was created by the Old Ones for their own purposes, and he continued that legacy (though the legions served him directly and not any Old One in particular). He brought his legions and influence in the demonic underworld to the Circle.
"Ed" :
 a representative of alien colonists commonly known as The Grays. This species kept the flow of Black Oil, the spawn of one of the early Old Ones, under control, as well as keeping tabs on the progress of the Consortium and their adversaries, ready to inform the Senior Partners on when and if they had to step in, as well as his knowledge of Interstellar Politics.

Senator Helen Brucker:
The human guise of a member of the Mi-Go whom the Black Thorn was grooming for a presidential election in 2008. Through the combined efforts of the Mi-Go and Black Thorn, she represented their political power of Circle. She took to surrounding herself with Vampires as her assistants and bodyguards. When the Circle fell, a second Mi-Go attempted to continue the plan in the 2008 election, again taking female form, but failed.
Geoffrey and Catherine Wilder:
These members can claim some Wold Newton heritage for the group. Geoffrey's grandmother (whose name has been lost to history) worked as a prostitute for a large portion of her early adult life. During this time, she had relations with one James Clark Wildman Sr. (Father of the pulp hero Doc Savage) during his younger days in America. She became pregnant from the encounter, and gave the child the surname of who she thought the father was--or at least what she could best remember it as. Geoffrey and Catherine Wilder controlled the criminal and law-enforcement aspects of the Circle. They placed moles in nearly every police district in the United States and kept crime under their thumb, or at least on-tab for nearly 20 years.
Dale and Stacey Yorkes:
This truly odd pair of time travelers represent the two extremes of the medium. Dale Yorkes was an intelligent, but petty thief from the 19th century who worked along side the more bloodthirsty John Leslie Stevenson when he stole H.G. Wells Time Machine. Not liking the way his relationship with Stevens was heading, he held in the background, but was intrigued by the possibilities of time travel. Eventually, though luck, perseverance, a predestination paradox and a few thefts from Wells office, he managed to build a working time machine of his own. However, he was never that ambitious and used the time machine for more petty theft without really considering the greater ramifications or uses for time thefts. That is, he did not until he met Stacey. Stacey was a renegade Time Lord who bumped into the Yorkes family several times through her regenerations. One of her earlier Regenerations had actually conceived and gave birth to the Dale and she now felt a new attraction for him in her last regeneration. She, having lost her own method of travel, joined him on his thefts and expanded his thoughts into a different method of thievery: the selling of antiques at auction. They eventually wed, which may sound revolting to our human ears but keep in mind how drastically the genetic material of a time lord changes when they regenerate. For Stacey, it was perfectly natural, but Dale did take some time to adjust to this idea of near Oedipal desires. Together, they prevented other time travelers from interfering in the plans of the Circle. (1)
Gene and Alice Hayes:
Unlike the previous couples, this pair of natural telepaths have little in their ancestry or history beyond their abilities that distinguishes them greatly, and that was one of their assets. This pair monitored other psychic networks, monitored precognitive and kept tabs on any other natural mutations that developed. (2)
Victor and Janet Stein:
Victor Stein can count on his distance heritage Victor Frankenstein III, when he went under the name of Dr. Stein between 1860 and 1863 in Karlsbruck, during that time, he managed to impregnate (and wed--in that order) a local girl during a lieu in his experiments. The child was, unfortunately born after Victor was exposed. However, it was almost one hundred years later that his descendants are mentioned in any capacity, with Victor taking after his namesake with an interest in the sciences. He was quite the Renaissance man, working in both technological and biological sciences. His wife shared both his interests and his skills, so they wed out of self-conceit. They brought their technical expertise to the Circle. (3)
Robert and Tina Minoru:
These two dark sorcerers were once in the service of Dr. Fu Manchu, aiding him in his own dark machinations. They lived in fear of his wrath; especially since they were closeted Christians and he had a nasty habit of executing those of the Christian faith on a whim. So, when he appeared to die at the hands of Shang-Chi in the early 1980s, they took their chance and fled to America, severing their ties with his organization and married. The Minorus brought their knowledge of the dark arts to the Circle.
Frank and Leslie Dean:
This couple were fugitive aliens using Earth as a neutral zone to sell arms to other species, and thus keep them away from earth. Their names were taken from a statue of James Dean they saw when they first landed on earth (near the Griffith Observatory in California). Their species is largely unrepresented in the Wold Newton Universe, but related species are. They represent an intermediary in evolutionary terms between creatures such as the so-called Colour Out of Space and the Organians. This species was sentient, and composed of "energy" (actually, energized gas), but lacked the strange, godlike powers of the Organians. They could, however, stretch themselves in lashing, whip-like attacks, or even thrown parts of their own body to damage foes with excited gas particles. This species no longer had to suck life from other living things, but could photosynthesize for most of their energy needs. They wore small devices on their body that allowed them to pass as human and took up careers as actors. They brought their intergalactic arms dealings and knowledge of interstellar crime to the circle.
Izzireal:
Another paranormal creature, focusing on the business aspect of the supernatural. Monitoring bargains and deals between various sentient entities.
Marcus Hamilton:
The liaison to the Wolf Ram and Hart, reporting back to them and informing the circle of their wants and needs. He was constructed by them to serve as their eyes and ears on earth.
The couples amongst the Circle entered into a pact around 1984 (4) to have their children succeed them in the Circle, revealing the circle to them and beginning to groom them for their place in it when they each turned 18. Alex Wilder, however, found out about the plans of the Circle three years early. Alex was a prodigy, the genes of Clark Wildman Sr. shown through in spades, and he began to wonder why his parents, for all he knew good people, would be apart of such an organization. Through his studies of various (stolen) texts his parents had gathered as part of the Circle, he learned about their function and of something worse: a plot by the various non-human members of the Circle to turn on their human members in a bid for more power, using their allies and progeny to restock the empty slots.
Alex knew he had to save his parents, but he also wanted the non-humans gone and the power they held. But he could not do it on his own--he was just a smart kid. He needed a team, so he took the budding team that the Circle was preparing--their children.
At the next yearly gathering for various blood rights, where the children were left alone with only each other for companionship, he lead them to witness the human sacrifice conducted in the presence of demons by their parents, and began to reveal their various powers, though some caught him by surprise:
Nico Minoru
stole/absorbed her mothers magical staff: The Staff of One, a powerful magical artifact that allowed the conjuration of various spells, but her unskilled use of it lead her to be only able to cast a specific spell once. Being raised a Christian; it was a troubling for her to inherit dark magic.
Karolina Dean
had her alien heritage revealed to her, though Alex had to guide her on how to best use her alien physiology.
Chase Stein
gained none of his parents technical intellect directly, but the athletic boy settled for stealing several inventions including multi-purpose goggles and mechanical gloves capable of flame projection and manipulation.
Gertrude Yorkes
found an emergency gift her parents had made her: a trained Juvenile, Female
Venatosaurus impavidus
(5) engineered to respond to the mental abilities she inherited from her Time Lord mother, and half-Time Lord father. She later gave it a nose ring for style purposes.
Molly Hayes
was Alex's surprise. He initially thought of the small 11 year old as useless to his plans. The others insisted they take her with them for her own protection, but he was unaware (as were her parents) that she not only inherited a small portion of her parents mental abilities, she had been called as a Vampire Slayer (6). Alex could not afford to pass up this opportunity, and recruited her.
Together, the six children ran away from home and hid in a spot Chase had scoped out: a cave in Bronson Canyon, where a criminal kingpin once held his secret lair back in the 30s. The villain was stopped by one of the various vigilante heroes running around at the time (given the level of destruction it sustained, it was more than likely the Spider). There, Alex trained his squad through various crime-fighting excursions, under the guise that they were thwarting their parents plans. The children even went so far to adopt code-names: Wilder, Sister Grimm, Lucy in the Sky, Talkback, Arsenic and Old Lace, and Bruiser. They even toyed with the idea of costumes, but only Molly ever made one--and only used it once. They spent about two weeks, as Alex would put it, "leveling up" against crooks and monsters in the LA area.
What Alex did not fully plan on was how much of their attention would be diverted because of the childrens stunt. That, combined with the Jasmine incident the year before, allowed the vampire Angel to infiltrate the organizations after being given the reigns to Wolfram and Hart.
The introduction of the vampire forced Alex to accelerate his plans and combine them with Angels which were taking advantage of the chaos brought about by the appearance of the cyborg Mecha-King Ghidorah under the control of a self-styled Khan (7). The plan involved taking on portions of the circle separately: the children would lure their parents into a trap with Wesley Windham Pryce; Spike would take on Ed and his minions; Charles Gunn would be assigned to Senator Brucker and her Vampires; Illyria would take on Izzireal and his minions; Angel would take on Archduke Sebassis; finally, Krevlornswath of the Deathwok Clan (everyone called him Lorne or "The Host" at his insistence) and Lindsey McDonald would be sent after the other leaders of the Archduke's minions. The reason Hamilton was avoided in the initial plan was the simple fact that with each incarnation of the liaison seemed to grow in power, and they did not want to see what would come next.
Both Alex and Angel kept the other children under the idea that their parents would not be killed, but simply arrested, for their own, separate purposes. On the night, the secret plans the two groups formed revealed themselves: Lorne shot Lindsey in his true mission; Angel poisoned Arch Duke Sebassis hours before heading out so he could take on Marcus Hamilton (with the aid of Angels son, Connor); and with the children
Alex orchestrated the fight so that all but he and his own parents were conscious at the end of it, killing Wesley in the process. Rousing Nico and her parents, he re-affirmed his feeling for her and offered her a spot in the Circle. Nico decided to give her answer in the form of a punch in the jaw. Alex had prepared for this (though he hoped that she would), but did not count on Illyria arriving to check on Wesley, after succeeding in her mission. She held Wesley in her arms as he died. Nico used her distraction to revived her comrades and take back the weapons he had taken from them after the melee. After Wesley passed, Illyria turned a hand towards Alex, and in a flash of brilliant blue light, vaporized the boy in front of the others. With that, she left to face the coming onslaught from the Senior Partners--as did the Runaways parents, who knew that they and their children would be executed by the Senior Partners for their failure and the loyalty they had for their progeny.
The remaining children used their parents sacrifice and fled. Only to be picked up later by UNIT/SHIELD, put into foster care and split up--some of the only people to make it out of Los Angeles before it was sealed.  Molly was taken in by the newly reformed Watchers Council, Gert's Venatosaurus was placed in a holding facility for such prehistoric survivors, and all but Chase were placed in Foster care. Chase used his street contacts escape protective custody, find Old Lace and release her for Gert (whom hed began a relationship with). So, three months after the defeat of the Circle of Black Thorn, the children once again ran off in a vehicle Chases parents had built, dubbed The Leap Frog.
After they have run off for a second time little is truly known, but what is known is that Karolina briefly left earth in order to prevent a war between her people and the Founders/Skrulls/Rutan Host and later returned with her super soldier fiance, Xavin, in failure as all out war broke out during their wedding. They also added a new member to the team: an artificially created cybernetic organism, Victor Mancha, created to infiltrate the UNIT/SHIELD and destroy all the costumed vigilantes on earth. This cyborgs mother, who lent her DNA to the process, was descended from the peasant folk of La Mancha, Spain. The father was one of the greatest evils the world had ever known: El Diablo Robotico--the Robot Devil. (8)
They spend most of their time fighting petty crime and stopping those who wish to fill their parents shoes (Demons, Monsters, Aliens and mobsters). One such incident, a group of dileded twenty-somethings lead by a time-displaced Geoff Wilder, lead to the death of Gert. Though 3/4ths Gallifreyan, she was not a Time Lord and could not heal from the wounds inflicted on her. With her dying breath she transferred control of Old Lace to Chase. He also stole a copy of the Abstract.
Chase left the group for several months before returning and nearly executed a plan to revive Gert by contacting the Senior Partners. His plan nearly exploded in his face, but he made it out alive and sane (which is more than most can say).
Their current whereabouts are unknown, but they are generally assumed to be in the Los Angeles area. A team of trainee heroes attempted to extend the olive branch to the children, but they were only marginally successful. Rumors also indicate that they have picked up a new member. Records indicate her name is Klara Plast, a girl who was forced into an arranged marrige who recently imigrated to America from Bern, Switzerland, who disappeared in 1907.
(1) See:
Travels in Time
by Loki Carbis.
(2) Rumors abound that this couple were actually Oddian mutations in nature, though they certainly were followers of Odd John Wainrights views of mutant superiority, this classification cannot hold due to the specialization developed by their progeny, it is unlikely that they were the exact same type of mutant. They were indeed mutants, but their mutations were not as extreme as those of a true Oddian.
(3) See the
MONSTAAAH Timeline
for more information.
(4) The comics of the Runaways were first published in 2002, whilst the last episode of Angel aired in 2004. The events of Runways vol. 1 occur over nearly 2 weeks, then picking up 3 months later, but published over 18 issues--over two years. The Angel timeline is taken as the more accurate date due to the existence of an item called The Abstract, a book that could foretell the possible future of the Circle and their enemies. This may have fallen into Brian K. Vaughans hands, giving him the spark to share this tale with the world. Whether or not Alex Wilder was behind this discovery remains unknown. Another reason to consider this later date is the inclusion of a video game that is clearly an analogue to
City of Heroes
, which was not published until 2004.
(5) This is a subspecies of
Venatosaurus saevidicus
that appear in the 2005 film of
King Kong
directed by Peter Jackson. We can accept this species as having existed on the island due to the immense detail that Jackson is known for, and the amount of research done by Jackson and his crew (see
The World of Kong: A Natural History of Skull Island
for more details). As to the identification of the actual species, the Runaways series itself identifies this as first a Velociraptor (despite being much to large), and later a Deinonychus (despite being much to bulky). However, Old Lace is not even a Dromaeosaurids, for it lacks the rigid tail of all so-called raptors. This places Old Lace in the same genus as
Venatosaurus
, given that they are both Deinonychosauria without the tail supports. This likely classifies them as
Troodontid
offshoots of some kind. The proportion of the head to the rest of the body, and its depth also indicates that it is a Venatosaurus. The coloration indicates the subspecies due to the striped back and tan body. The large eyes and smaller size indicate that is a juvenile member, thus more easily trained, and the discussion about Old Lace in the books tells us her gender. Finally, with all the variability and unpredictability of time travel, it was far easier for the Yorkes to travel to 1930 instead of traveling millions of years in the past to get a saurian protector for their daughter that could fit in their home easily given how most survivors were prone to gigantism. See:
Prehistoric Survivors in the Pacific
by Mark Brown for more information.
(6) See:
Buffy the Vampire Slayer
"Chosen" by Joss Whedon for more information.
(7) See:
Godzilla vs. the Robot Monsters
by Marc Cerasini for more information.
(8) El Diablo Robotico is known by many names: including Ultron, Amazo and Beelzebot. Before the year 2275 (when the Fairness of Hell act was passed), he sets up his own Robot Hell under Coney Island for the simple pleasure of torturing other sentient automata. See Futurama Hell is Other Robots.
General Sources:
Runaways
Vol.1 and Vol. 2 by Brian K. Vaughan
Runaways: Dead End Kids
by Joss Whedon
The Colour out of Space
by H. P. Lovecraft
Star Trek
"Errand of Mercy" written by Gene L. Coon
Angel
created by Joss Whedon
The X-Files
created by Chris Carter
Timeline
1791 - Los Angeles Branch of Wolfram and Hart is founded with the ritual Sacrifice of Matthias Pavayne. (Angel Hellbound)
Late 1890s  - Dale Yorkes begins his travels through time.
Early 1950s - El Diablo Robotico is constructed
1984 - The Hayes, Minoru, Stein, Wilder, Dean and Yorkes families are inducted into the Circle of Blackthorn.
1987 - Chase Stein is born
1988 - Nico Minoru, Alex Wilder and Carolina Dean are born
1989 - Gertrude Yorks is born.
1993 - Molly Hayes is born
2001 - Victor Mancha is constructed
May 8th, 2003 - Alex Wilder discovers the Circle of the Black Thorn and spends the next year in research/planning.
May 8-9th, 2004 - The events of Runaways vol. 1 #1-6
Mid May, 2004 - Angel meets with the Runaways for the first time.
May 19th-22nd, 2004 - The fall of the Circle of Blackthorn. Los Angeles sent to hell.  
September, 2004 - The events of Runaways Vol. 1 #18
October, 2004 - The Events of Runways Vol. 2 #1-6. Victor Mancha joins the crew after the death of his mother and apparent destruction of El Diablo Robotico.
November, 2004 - Karolina Dean leaves for her home world. (Vol. 2 #7-8)
December, 2004 - The Runaways are spotted in New York and help aprehend a Hyde-25 User. (Vol. 2 #9-12)
Janurary, 2005 - The Watchers Council attempts to convince Molly Hayes to rejoin them. They fail. (X-Men/Runaways: Free)
March(?), 2005 - Karolina returns with Xavin, Gert is killed by Geoff Wilder. Chase takes a brief leave of absence. (Vol. 2 #14-18)
April, 2005 - Trainee heroes dubbed "Young Avengers" by the media try to repair relations between SHIELD and the children of the Circle. (Civil War: Young Avengers/Runaways #1-4).
May/June, 2005 - Chase attempts to ressurect Gert by sacrificing himself to the Wolf, the Ram and the Hart. The attempt fails, thanks to the mild interference by the hell-trapped spirit of Alex Wilder, but nearly costs Nico her life. The Wolf, the Ram and the Hart are cut off from this dimension in the end. UNIT/SHIELD cracks down on the children and chases them from their base. (Vol. 2 #22-24)
Late July, 2005 - The Runaways haul across country to New York, make a deal with David Xanatos for sanctuary after aiding in the containment of a Solanum outbreak along with Ashley Williams. (Marvel Zombies vs. Army of Darkness; Runaways #24-30). The kids later get caught in a stable time loop sending them back to 1907 for a few days before returning them to the present. They go under the radar after that.  Details are sporadic and conflicting. 
Fall, 2005 - The Runaways encounter Daken, the son of Wolverine (Daken: Dark Wolverine #16-19)
2006 - The Runaways encounter the Avengers Academy program once again, but leave on far more amiable terms (Avengers Academy #27, 28)
Organization:
The Runaways usually referred to as Children of the Circle
Who, When and What:
It began with a young man, Alex Wilder, discovered that his parents were part of the Circle of the Black Thorn, and that some of the other members plans to off their human co-conspirators. He assembled the children of the circle, who were clueless of their parents real jobs, and formed them into a team. With the aid of Angel and his allies, the Circle was disbanded, but not in the way he planned it. The surviving children discovered that, unlike they were told, Alex only planned on saving his OWN parents and destroying those who plotted against them. Alex was killed and the others went into hiding for a short time before using their abilities to defend Los Angeles from new threats that emerged in the fall of the Circle. As the year progressed, Another member died and two more joined. They now hide in one of their parents many secret lairs until chased out by UNIT/SHIELD
The Runaways remain active by the end of the Millennial period, but generally keep to themselves whenever they can.  How long they will last and stay together is unknown, but some day they will grow up and head out on their own.  They may not expect to see the future, but it is coming for them. 
Total Value:
9
Clout:
Criminal 2, Financial 1, Supernatural 1, Super Heroes 2
Quarters:
Large (The Hostel) (3), Physical Security (Hostile LocationBelow Tar Pits, Counts as level 3 without guards), Supernatural Security (Protected). Total Cost: 2 (8-6 from clout)
Gear: Computers (Basic), Workshop (Basic) Vehicles (The Leap Frog) (5) Total Cost: 7
The Leap Frog
"My global positioning satellite is unable to procure that information Ms. Hayes."
Armor Value: 100
Damage Capacity: 300
Handling: 3
Speed: 200(leap)/10
Toughness: 4
Special Equipment: Artificial Intelligence (All Mental Attributes at 6), +2 to Targeting rolls, Cloaking Device (Invisibility at Will)
Armaments: Stun Lasers x2: 25 damage; Kill Lasers x 2: 50
All Runaways members have the drawback: Adversary (Usurpers, Criminals, SHIELD and the Police)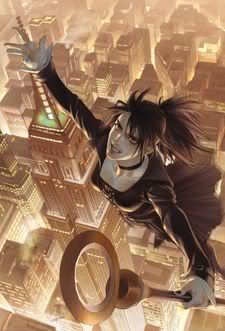 "I'm not a leader, I'm a den mother. And not a very good one."
Name: Nico Minoru
Date of Birth: 1988
Motivation: Keep the team safe.
Critter Type: Human Witch
Attributes: Str 2, Dex 2, Con 3, Int 4, Per 4, Will 4
Ability Scores: Muscle 10, Combat 12, Brains 14,
Life Points: 30
Drama Points: 10
Special Abilities:  Magic 1, Staff of One (Quick-cast any level 4 spell once (similar effects can be done with a different phrase), Upgraded to include a +4 to Spellcasting.  Any use requires a seperate Willpower (doubled) roll to deal with the negative thoughts it brings up, mental negatives may apply at GM's discretion), Emotional Problems (fear of rejection and commitment), Mental problems (mild cruelty), Covetous (mild lecherous), Attractiveness +3, Love (tragic), Delusions (Prejudice against the Establishment), +1 Occultism, Dependants (The other Runaways), Minority (Asian), Impaired Senses (Sight - Contact Lenses/Glasses)
Name - Score - Damage - Notes
Punch - 12 - 6 - Bash
Kick - 11 - 8 - Bash
Staff - 12 - 10 - Bash
Magic - 16/20 - Varies - By Spell/with staff
Deflect - 16/20 - None - Magical Defense/with staff
Hold - 15/19 - None - Magical Defense/with staff
Dispell - 13/17 - None - Negate Ongoing Effect/with staff
Volley - 10/4 - None - Spell Reflection/with staff
A former alter-girl turned goth witch, Nico Minoru is the default leader of this nameless team. When Alex lead their team against the Pride, they were in a relationship, and she didnt take his betrayal well. As a result, shes distrustful of outsiders and over-protective of her team. She has a particular hatred for Illyria. She recently began a serious relationship with Victor Mancha, but knows full well the potential he has for destruction. She has two questions that, when asked, will place him in a classic logical-loop shutdown.
These stats represent her at the start of the series. By it's end, she has Hard to Kill 5, Magic 5, her staff has become the Witchbreaker Staff (Same basic idea, up to level 6 spells), her combat score rises by 2 and her Willpower and Constitution is raised by 1 (raising her life points to a total of 49). She also gains another level of cruelty for what she did to the Yorkes.   Her Magic score by this time is up to 22/26.  This represents her new staff: that of the Witchbreaker.
"I didnt need roids back when I was playing all-state, and I dont need x-ray specs or flaming gloves when I'm cracking skulls today."
Name: Chase Stein
Date of Birth: 1987
Motivation: Avenge Gert. Prevent others from dying.
Critter Type: Human
Attributes: Str 4, Dex 3, Con 3, Int 2, Per 3, Will 4
Ability Scores: Muscle 14, Combat 13, Brains 9,
Life Points: 49
Drama Points: 10
Special Abilities: Hard to Kill 5, Animal Companion (Old Lace), +5 Crime, +4 Mr. Fix It, Contacts (Criminal) 3, Attractiveness + 2, Jock, Mental Problems: Mild Cruelty, and Severe Recklessness, Secret (murderer), Natural Toughness, Fistigons/Fistigons 2.0 (+2 to hit)
Name - Score - Damage - Notes
Punch - 13 - 11 - Bash
Kick - 12 - 12 - Bash
Knife - 13 - 11 - Slashing
Slam-tackle - 16 - 12 - Bash
Fistigon Punch - 15 - 18 - Bash
Fistigon Flame - 15 - 3 per SL (12) - Fire, can ignight things
Fistigon Flame Construct - 15 - as Flame - Has 3 Life Points per SL
Fistigon Beam - 15 - 10 - Fire, Bash or Plasma, can stun--1/2 damage (bash) -- forcing a consciousness test at -5 + (-1) per SL (-9). 2.0 Version only.
Fistigon Missiles - 15 - 30/20/10 - AP, 1/2/3 Yards, pistol ranges. 2.0 version only.
The jock son of two mad scientists who uses some of their inventions to counter their evil, and found himself growing in ways he never expected. Recently, he is still recovering from the death of his girlfriend. He has an empathic bond with Old Lace, though recent events allow only empathic commands, as Old Lace has forged an identity for herself. In his greif over Gert's death, he attempted to kill himself to bring her back in an arcane ritual. The others stopped him, and the entities he bargained with were destroyed (after informing him that such a willingness to die would invalidate the sacrifice needed).
Formerly posessed two superscience items: "X-Ray" Goggles, and flaming gauntlets dubbed Fistigons. They could produce flaming constructs--but he mostly used it for gouts of flame and the occasional wall. After his time-traveling adventures in New York (and LA unlike the others) he gained a second, more advanced pair of gloves (the other attacks other than flame listed above with the gauntlets).  By the end of the Runaways run, he gains a +1 to his Constitution, Intelligence and Dexterity (increasing his Life Points to 53 and his combat score 14). 
"Oh, chill. I've got all the same parts you do."
Name: Victor Mancha
Date of Construction: 2001 (appears to have been born in 1988)
Motivation: Dont follow in Fathers footsteps.
Critter Type: Cyborg
Attributes: Str 7, Dex 4, Con 5, Int 6, Per 3, Will 4
Ability Scores: Muscle 20, Combat 16, Brains 14,
Life Points: 73
Drama Points: 10
Special Abilities: Cyborg (as Robot, but can heal half life-points normally), Nerd, Supernatural Attack (Major), Electro-magnetic-kinesis 6, Photographic Memory, Computers +2, Minority (Mexican-American), Computer Interface, +2 Wild Card (Heroes), Weakness (2 Logical Loops will shutdown his systems), Hard to Kill 5
Name - Score - Damage - Notes
Energy Blast - 16 - 34 - Energy
Punch - 16 - 18 - Bash
EMkinesis - 16 - 8 - Bash or Slash/Stab (depending on object lifted), metal object only, can create EM sheild (AV 8/16 vs. Metals)
Victor has managed to overcome his fathers programming and become an indispensable member of the team, but still fears that he may turn evil someday. He can charge object with power via his electro-kenises, using it to lift himself or move metalsusually in the form of a big hand.
He has grown dramatically, as his programing dictates.  He gain 5 levels of Hard to Kill (and raising his life points to 88), his EM kinesis to 10 and 1 level of Willpower. 
"I miss when we had codenames."
Name: Molly Hayes
Date of Birth: 1993
Motivation: Beat up Bad Guys
Critter Type: Altered Vampire Slayer
Attributes: Str 10, Dex 6, Con 5, Int 3, Per 5, Will 4
Ability Scores: Muscle 26, Combat 16, Brains 12,
Life Points: 85
Drama Points: 10
Special Abilities: Hard to Kill 5, Narcolepsy, Armor Value 10 (Dual Form), Child, Notice +3, Wild Card Language/Speech +4, Resistance (Sleep) 3, Mental Problems: Severe Recklessness, and Mild Cruelty; Honorable (Minimal), Slayer, Fast Reaction Time, Nerves of Steel, Mild Obsession (Mutants).
Name - Score - Damage - Notes
Punch - 16 - 24 - Bash
Kick - 15 - 26 - Bash
Molly Hayes is the youngest member of the team, and the one who seems to enjoy her new life the most. She was one of many slayers called at the turn of the millennium. After the fall of the circle of blackthorn, and the death of her parents, she was taken in by Buffys slayers, but ran away soon after to rejoin her friends as they escaped Child Services. When activating her armor or getting ready for a fight, her true mutant genes show forth in a psionically induced barrier around her body and bio-luminescent eyes (shinning a fine purple). This sign flares up when she is engaged in (any) battle. She usually stays in combat for 1 turn per level of Constitution (+1 per resistance level) (8 turns). She will usually wake up in 10 minutes -1 per success level in a Willpower, Constitution and Resistance (sleep) roll.  Because of her parent's psionoic pasts, her abilities as a Slayer interfered with those latent genetic traits and truly enhance her potential.  Over the short time she has been active, her Strength has increased dramatically, as has her durability and resistance to sleep.  By the end of the millenial period, this has brought her Strength to 15(+20 Life points) and Armor Value to 20.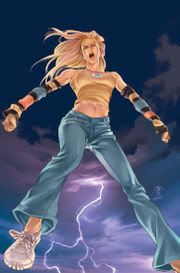 "Our parents murdered that girl. We can't just let some giant monsters eat her soul, too."
Name: Karolina Dean
Date of Birth: 1988
Motivation: Help where I can
Critter Type: Alien (Majesdanian)
Attributes: Str 3, Dex 5, Con 3, Int 3, Per 3, Will 4
Ability Scores: Muscle 12, Combat 13/16, Brains 10,
Life Points: 34
Drama Points: 10
Special Abilities: Flight, Supernatural Attack (Deadly), Energy Shield (AV WILL per SL), Minority (Gay Alien), Honorable (Serious), Attractiveness +4, Love, Wild Card (Alien Powers) +4, Severe Delusions (hippie crap), Variable Yield
Name - Score - Damage - Notes
Energy Bolt - 16 - 44/29/19/14/5 - Bash, up to 100ft area of effec (lower to hit score)t. Narrower beam can have greater accuracy (up to +4)
Shield - 15 - None - Barrier: AV: 4 x SL (16)
Dodge - 16 - None - Defense Action
Punch - 13 - 9 - Bash
The light produced by the Majesdanians is derived from that of the sun, so all of her attacks in her native form are treated as exposure to sunlight for 1 turn when they strike a creature weak to it. In the case of Vampires, they take an additional 20 points of fire damage when struck by her bolts, or even touched, in her energy form. If they are trapped in her energy shield, they take 20 fire damage per turn they are held.
Drinking her blood in human form multiples the damage by 5 (100), and goes for one turn per 10 life points (rounded up) taken by the Vampire.  She is, at heart, a hippie. Before running away, she had already gotten a criminal record for attending various demonstrations and protests.  Creating the shield uses the Brains score with the Powers bonus (or a Willpower + Wild Card (Powers)) and provides Willpower per SL Armor Value
By the end of the era, she gains a +1 to her brains, +1 to her Dexterity (and combat score) and her Constitution.  She also gains 5 levels of Hard to Kill. This raises her life points to 53.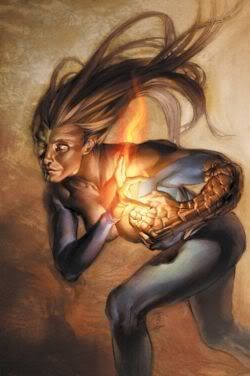 "Besides, Skrull Intelligence believes that the Caramel Macchiatto may be this star system's crowning achievement."
Name: Xavin
Date of Birth: Unknown, Late 1980s?
Motivation: Try to fit in, uphold honor.
Critter Type: Skrull
Attributes: Str 8, Dex 6, Con 5, Int 3, Per 2, Will 5
Ability Scores: Muscle 26, Combat 16, Brains 12,
Life Points: 62
Drama Points: 10
Special Abilities:  Supernatural Attack (Minor - Fire Damage), Invisibility (at will) Invisible Shield (AV Will per SL), Regeneration (con per turn), Flight, Mental Problems (mild violence, mild delusions (prejudice against robots/androids/cyborgs), Love, Honorable (Serious), Skrull, Kardashev Type 1 (medium) Civilization Member, Variable Yeidl
Name - Score - Damage - Notes
Punch - 16/15 - 20 - Bash, Can be ranged
Grab - 18/17 - None - Grapples, can be ranged
Stone Punch - 16 - 36 - Bash
Claw - 16/15 - 28 - Slashing
Flames - 16 - 19/14/9 - Fire, up to 20ft area of effect, up to +2 to hit for narrower blasts. 
Shield - 16 - None - Barrier: 5 x SL (20)
Xavin is a super soldier in training, usually only able to manifest one of her bizzare abilities at a time, and no more than two. By the end of the era, she gains Hard to Kill 5 (77 Live Points) and adds +1 to her Intelligence and Perception.  This increases her Brains by +2.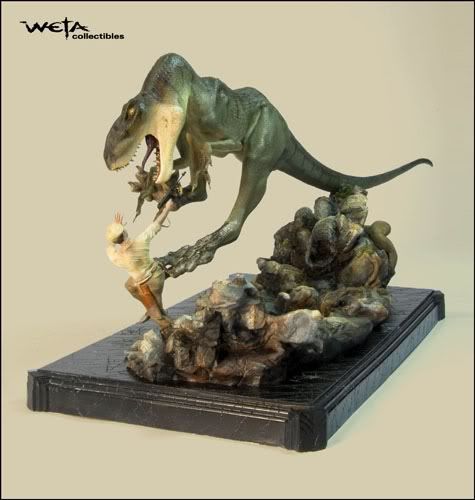 Old Lace
(Okay, so this is the type species, so sue me!)
"Grrr"
Name: Old Lace
Date of Birth: Unknown
Motivation: Obey orders. Eat and be cute.
Critter Type: Genetically Engineered Venatosaurus
Attributes: Str 6, Dex 7, Con 6, Int 3, Per 5, Will 4
Ability Scores: Muscle 18, Combat 16, Brains 10
Life Points: 58
Drama Points: 5
Special Abilities: Animal Intelligence, Animal Communication, Empathic Bond, +5 Notice, +5 Wild Card (Tracking)
Name - Score - Damage - Notes
Hand Claws - 16 - 16 - Slash/Stab
Bite - 16 - 18 - Slash/Stab
Foot Claw - 15 - 23 - Slash/Stab
Tail - 16 - 17 - Bash
Pounce - 18 - 17 - Slash/Stab
When Old Lace or the person bonded to her takes damage, the other suffers from it as well.   She gains Hard to Kill 5 and 1 level of Increased Life points over the course of her adventures.  This raises her life points to 83.  She also gains Situational Awareness and Fast Reaction Time. 
"I saw my parents kill a girl and then found a Dinosaur in my basement. I haven't slept in four days."
Name: Gert Yorkes
Date of Birth: 1989-2005
Motivation: Live on what time we have left
Critter Type: Human/ ¾ Time Lord
Attributes: Str 2, Dex 2, Con 3, Int 5, Per 3, Will 4
Ability Scores: Muscle 10, Combat 10, Brains 14
Life Points: 30
Drama Points: 10
Special Abilities: Nerd, Attractiveness +1, Impaired Senses (Sight - Glasses), Emotional Problems (Fear or Rejection), Mild Cruelty
Name - Score - Damage - Notes
Punch - 10 - 6 - Bash
Gert Yorkes was one of the major voices of reason in the group until her untimely death. She and Nico were good friends and she considered her the "Second in Command" and named her the new leader if Nico died. Sadly, Gert did not live much longer after that. She originally had the empathic bond to Old Lace, but gave it to her boyfriend Chase (yeah, everyone was surprised by their hooking up) to prevent the dinosaur from dying with her.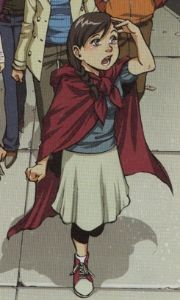 "I have always just...I thought that was how plants grew. Because you asked them to."
Name: Klara Plast
Date of Birth: 1896 (time traveled to the present at age 13)
Motivation: Enjoy the strangeness of the future.
Critter Type: Human Witch
Attributes: Str 1, Dex 3, Con 4, Int 3, Per 4, Will 4
Ability Scores: Muscle 9, Combat 10, Brains 12
Life Points: 39
Drama Points: 10
Special Abilities: Magic 3, +5 Plant spells, Empathy, Song of the Green (can communicate with plants on a basic level), Attractiveness +2, Emotional Problems (Fear of Rejection), Socially Inept (Time-Displacement) (-1), Archaic (100 years displaced, -2 to work technology), Hard to Kill 3
Name - Score - Damage - Notes
Magic - 15 - Varies - By Spell
Deflect - 15 - None - Magical Defense
Hold - 14 - None - Magical Defense
Dispell - 12 - None - Negate Ongoing Effect
Volley - 9 - None - Spell Reflection
Plant Control - 20 - Varies - By Spell
Klara is the newest member of the Runaways, escaping a past of torument for a future filled with possibilities. She is a natural herbal-mage, with a peacefull temperment and a curiosity (and a little fear) of the new world she is in. She is extremely uncomfortable around Karolina and her "Girlfriend" and tends to use archaic words--some of which are no longer socially acceptable. Her english is a little above ESL, she originally hails from Bern, Switzerland. Her primary language is German.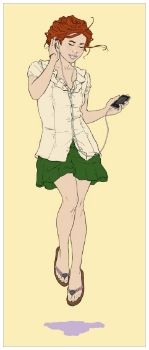 "Mercy, I was in a state! Welcome! Look at you all--from everywhere!"
Name: Lillie McGurty "The Speiler"
Date of Birth: 1890 (time traveled to the present at age 17)
Motivation: Enjoy Life
Critter Type: Half Demon
Attributes: Str 3, Dex 7, Con 4, Int 4, Per 3, Will 4
Ability Scores: Muscle 12, Combat 16, Brains 14
Life Points: 50
Drama Points: 10
Special Abilities: Half-Demon (Sylph), Flight (Advanced, Limited Use – Must have "Music"), Attractiveness +4, Minority (Scott-Irish), Socially Inept (Time Displacement), Archaic (100 Years displaced), Hard to Kill 4, Love (Tragic), Honorable (Minimal), Daredevil
Name - Score - Damage - Notes
Feint – 14 – None – Add SL to next attack (+3)
Jab – 18 – 9 – Bash
Punch – 16 – 10 – Bash
Haymaker – 13 – 12 – Bash
Kick – 15 – 12 – Bash
Spin Kick – 14 – 13 – Bash
Crowd Dance – 12 – 6 – Bash, hits 1 target per SL.
When the Runaways went to 1907, they ran into one other person they wanted to bring back with them.  She said no and regretted it the rest of her life, even when using time travel to undo it, she only set things as they were.  But what if she came?  Lillie is that girl.  She fell for Victor as soon as they locked eyes (and he for her), but one wrong decision ruined their chances back then.  If you wish, she can come to the future with Klara and the others.  She's an outgoing, energetic girl, normally.  She believes in helping others (fighting those who supressed and harmed workers and other downtrodden people in her own time) and has a joy about life that is infectious.  It may be hard, but it's life and that's fantastic!  Her older self stated she'd be captivated by and loved the modern world and all its advancements. Back then, people like her were called "Wonders". She sees the future as a new Wonder in and off itself.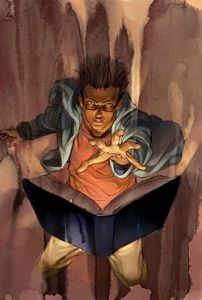 "Rule number one of gaming: a good dungeon master always makes his players feel like they're in control, especially when they're not."
Name: Alex Wilder
Date of Birth: 1988-2004
Motivation: Just As Planned
Critter Type: Human
Attributes: Str 3, Dex 3, Con 3, Int 5, Per 3, Will 3
Ability Scores: Muscle 12, Combat 11, Brains 16
Life Points: 34
Drama Points: 5
Special Abilities: Love, Attractiveness +2, Minority (Black), Nerd, Impaired Senses (Sight - Glasses), Enchanted Item (The Abstract and Decoder), Honorable (minimal), Mild Cruelty, Delusions (mild grandeur)
Name - Score - Damage - Notes
Dodge – 11 – None – Defense Action
Punch – 11 – 8 – Bash
Plan - 16 - None - Reveal a surprise
Alex Wilder created the Runaways, and they ended up destroying his plans (and getting him killed) when his true aspersions were revealed. He is a planner of great skill, but often over-estimates his own abilities.  After his 'death', he became trapped in a limbo-like dimension.  On occasion, through force of will, he can send silent messages to others.  It is a rare thing to see, and he only does so as a way of escaping his 'hell'. 
------------------------------------
Your Logic is insane and happenstance, like that of a troll.
"...and "Candle in the Wind" by Sir Elton John is the best selling song of all time. Popular sure doesn't mean right" - Penn Gillet.
"Science is like sex. Sometimes something useful comes out, but that is not the reason we are doing it."
-Richard Feynman